Preston Park's Voices
What is VE Day and why do we celebrate it?
This year is the 75th anniversary of VE Day which is a monumental landmark, as a country we were due to celebrate it nationally with many events initially planned. However, due to the current lockdown, those had to be cancelled. However, many around the country still intend on celebrating from the comfort of their own home.
VE Day - or 'Victory in Europe Day' - marks the day towards the end of World War Two (WW2) when fighting against Nazi Germany in Europe came to an end.
On 8 May 1945, Prime Minister Winston Churchill made an announcement on the radio at 3pm that the war in Europe had come to an end, following Germany's surrender the day before.
How was VE Day celebrated?
World War 2 was an extremely traumatic experience for the British public, as a result, Tuesday 8th May, 1945, was an emotional day for many. The nation lined the streets to show their excitement that fighting had stopped, and there were big celebrations and street parties.
Huge crowds - with lots of people dressed in red, white and blue - gathered outside Buckingham Palace in London. They cheered as King George VI and his family, including Princess Elizabeth (the current queen) and Princess Margaret, came out onto the balcony to greet everybody.
Princess Elizabeth and her sister were allowed to leave the palace and celebrate with crowds outside, although they had to do it secretly. The Queen has described it as "one of the most memorable nights of my life".
Many people also attended church services to thank God for the victory.
London's St Paul's Cathedral held 10 services, which were attended by thousands of people.
However, it is important to note that whilst celebrations took place, there was a wave of sadness and grief as millions of people lost their lives in the battle.
Was VE Day the end of World War Two?
VE Day was not the end of World War 2. This is an important thing to remember as it is easy to forget and get mixed up. The war did not end until three months later, in August. This came on 14 August 1945, after two atomic bombs were dropped on the Japanese cities of Hiroshima (6 August) and Nagasaki (9 August).
On 15 August 1945, the allies had officially defeated Japan. This date is known as VJ Day.
Why did World War Two start?
In World War One, from 1914-1918, Germany was one of the countries that lost the war, and was blamed by many countries for the war.
Germany had to sign an agreement that said they were to blame for the war, that they had to pay a fine, lose some of their acquired land, and be allowed only a small army.
Adolf Hitler and the Nazis ignored the agreement and secretly started building up their army and taking back lands they had lost.
On September 1, 1939, Germany invaded Poland with one million soldiers.
France and Great Britain decided to support Poland, so declared war on Germany. This was the start of World War Two.
Which countries fought in World War Two?
Those who fought against Germany were known as the Allies. Those who fought with Germany were known as the Axis. The Axis countries included; Germany, Italy, Japan, Hungary, Romania, Slovakia and Bulgaria.
The Allied countries were; Great Britain, France, United States, Greece, Australia, Canada, Belgium, India, Poland, South America, and many more.
What can you do to celebrate?
Even though we are at home, there are still plenty of things you can do to celebrate VE Day and the efforts of our war veterans. Here are some ideas for activities you can get up to:
Create a WW2 inspired quiz to do with your family
Take part in a two minutes silence
Watch the many programmes that will be on TV to celebrate (The Queen will be addressing the nation on 9pm)
Preston Park's P.E Challenge
We are excited to launch daily P.E activities that have been created by Coach Welsh and Coach Rudik to make sure we all stay fit and healthy, whilst at home. We will be uploading activities for you all to get up to, both here and our school Twitter, on a weekly basis.
Day 1. Anna's Frozen Challenge:
Find something to play music on and choose a DJ.

Start dancing and do your best moves!

When the DJ stops the music, you all freeze.

If you don't stop as soon as the music does, then you must do 20 star jumps to warm yourself back up and melt the ice!
Day 2: Piggy in the middle
1. Grab a ball and choose one person to play as the piggy – the rest stand around piggy in a circle.
2. Throw the ball to anyone in the circle.
3. If piggy gets the ball, you swap places.
4. If you drop the ball, sprint around the circle.
Day 3: Soft Ball Fight
1. Split into 2 teams and grab a balloon or a soft ball.
2. Take it in turns to throw the ball at the other team.
3. If your throw touches someone, your team gets a point.
4. If they catch the ball, your team loses a point.
5. Which team has the most points after 10 minutes?
Day 4: Jungle Jig with Nala and Simba
1. Start playing some music or put the radio on.
2. Take 2 sideways steps right and tap the toes of your left foot on the ground in time with the music. Then do the same to the left.
3. Now add some arm moves! As you step each way, wave your arms side to side above your head!
4. Finally, after your 2 steps in each direction, do a special dance move. Try a star jump, dabbing, flossing or swivelling your hips like you have a hula hoop. It can be anything – make the most of your agility!
5. See if you can keep dancing for 10 minutes.
Day 5: Super Race
1. Use toys to mark out a start and finish line. Then place 2 markers at equal points along the course.
2. On the count of 3 you must start to race, but for the first section you can only race on your hands and knees.
3. Once you reach the first marker, start hopping.
4. From the second marker, you must then run to the finish.
5. Time yourselves or make it harder by making the course longer or adding more sections.
A day in the life of Mrs Wazir
Dear Families of Preston Park,
I do hope everyone is keeping happy and healthy during these challenging times. Everyone in our school is here to support you all so that we stay connected which is really important during this unprecedented time. I have loved reading and hearing about the heart-warming moments and fun photos that parents have kindly shared. Although the school corridors are not full of children's voices, there is still a lot that we are trying to do to support our school community to make sure your voices are heard, even from home.
I am sure for all of us, not going out in the sunshine to meet with family and friends is really hard but the lockdown will not last forever. Imagine the party we can have when we all get back together!
It is also really important to look after our mental health, and each other, during this time and we can do this by keeping positive, smiling and supporting each other.
Working from home also has its own particular challenges, one of which is home-schooling which all of you are having to now undertake. The contact from parents that I have had, has shown me what a brilliant job you are all doing with some of you undertaking dual roles of 'working' and 'teaching' from home. Balancing the two roles is extremely difficult in normal circumstances let alone during a pandemic which shows just how amazing you all are.
For some of us, this lockdown has been a chance to reconnect with loved ones; my youngest has a new found interest in drawing although I still confuse her pictures of horses with elephants! My eldest is also now cooking which in itself is a miracle (hopefully, by the end of the lockdown I will still have some taste buds left).
Recently, a 4-legged furry friend also joined my family. Here's 'Cough' the kitten (aptly named for these times); Cough is just 10 weeks old, gorgeously fluffy and loves sun puddles. Here he is sitting in his cat basket looking adorable and wanting to play!
Finally, by working together we have overcome unimaginable challenges and learned so much about ourselves and our families – these are precious moments which will be remembered not just by us, but for generations to come.
Please stay safe everyone.
Noreen Wazir
International Earth Day!
Earth Day is a day that was created to promote awareness and appreciation for the Earth's environment and occurs each year on 22 April.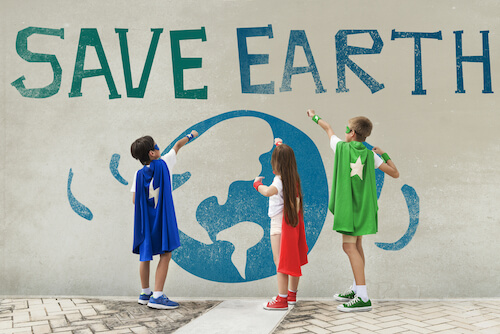 Earth Day was started in 1970 by a senator from Wisconsion, America who noticed that protestors were not putting any pressure on government about the damage being done to the planet via contaminants like oil spills, pesticides, and deadly smog.
Earth Day is celebrated world-wide by everyone. People often have marches to increase awareness and take part in activities such as recycling and doing litter pick-ups. On the very first day, over 20 million people took to the streets in America to protest against the industrial revolution.
Each year has a different focus, and the theme for 2020 is Climate Action.
How can you get involved?
Although Earth Day might look a bit different this year, there is a lot you can do to make some positive change, beat boredom and help create a climate-friendly future, all from the comfort of your own house.
Explore plastic usage in your home:
Find out how much plastic you use at home by counting how many plastic containers, wraps, bottles and bags you purchase for your kitchen and bathroom. Evaluate if these can be replaced with other sustainable research.
Creating art is an excellent way to spend time indoors and still connect to the Earth. You can use materials from around the house, to create something new, like jewellery, bags or plant holders. You could even transform trash into treasure by creating a sculpture out of recyclables.
Creating art is also a great way to get outdoors while practicing social distancing. Collect leaves and stones and use it to make some artwork.
This Earth Day, try out a cool science experiment to show how different disasters can affect our planet. For example, pour oil into a tub of water to see how difficult it is to clean up and why it's so important that we keep oil spills from ruining our planet's oceans.
Go on a nature scavenger hunt:
Learn about local flora and fauna this Earth Day by searching for flowers, plants and trees by searching in your garden and then trying to find out about them online.
Have a go at some of the ideas above and try some of your own. We would love to see how you and your family celebrate Earth Day. Share any photos, videos, and comments with us at blog@prestpk.brent.sch.uk
22.04.2020 Blog post from the Acting Deputy Headteacher
Dear Families of Preston Park,
First of all, I want to say thank you to each and every one of our school community. The parents (who have become interim teachers), the children (who have been extremely flexible and resilient), the staff (who are continuing to work at home), the governing board (who are offering their continued support and guidance through this extremely difficult time) and our wonderful Headteacher Georgina (who has led the team with such care and compassion).
I hope you all had a restful break and you enjoyed some of the sunshine on your daily hour of exercise. I can report that the Ali household has turned into a series of Master Chef, unfortunately there's only one contestant at the moment (me)!
Juggling home schooling with my children and I'm sure it is the same for most of you, is proving very challenging; however, I have discovered the garden is a good place to hide and our cupboards and wardrobes have never been so tidy!
My children and husband have been keeping me entertained (I'm sure there's another word for it but I'll leave that to your imaginations) and it has been wonderful to spend more time with them, no seriously it has!
Wishing you all the very best and I hope to see you all again very soon. I'll leave you with a picture of my boys (remember a picture is just a snapshot of someone's day and believe me on this day it was just a snapshot!)
Take care everyone.
Siobhan Ali
4.04.2020 Blog post from the Headteacher
Dear Families of Preston Park
What an end of term like no other….!
It is quite astonishing how I am writing this first blog post to you from my home and that yesterday there was no waving goodbye and wishing you all a wonderful break as the children bounce out of school smiling, excited for their holiday adventures.
I hope you are all well and adapting to this new way of living. The whole team are here to help you through this and should you need anything, please do not hesitate to contact us.
I want to thank all of you, so incredibly much, for how you have shown such love, kindness, patience, support and courage during this unprecedented time. I am really proud to be a part of our community and the senior leadership team and Board of Governors would like to extend their appreciation, thanks and love to everyone.
I love hearing about your learning journeys and seeing the wonderful work produced by the children at home. Please do keep sending them in as we are creating a celebration wall on our new website where we can show off these amazing pictures and videos!
The school is a cold and empty place without the children and I miss all of your energy and talent. There is no wonderful buzz throughout the building as classrooms are closed. As a whole school we haven't seen each other 'as one' in two weeks and we look forward to when we can all be back together in the future.
My little furry friend accompanied me to school yesterday as I completed a site visit. Here is a picture of her. Jay Jay is 6 years old and although I did not allow her into the school, she did have lots of fun in the flower bed!
I wish you a safe Easter period indoors with your loved ones. Even though the sun will be out, please stay safe and respect the governments advice.
Look after yourselves and stay safe and strong – we will get through this together.
Best wishes
Georgina Nutton
27.03.2020 Our children in emergency childcare pay tribute to the NHS
Preston Park says "Thank you" to the NHS
As a school we are extremely proud of all the hard-work everyone at the NHS has been doing in an effort to keep us safe and we would like to send a huge thank you to everyone currently working to fight the virus.
Our students have been working hard on messages of support to our frontline workers, and have created these pieces of art-work to show their gratitude.
27.03.2020 Our children in emergency childcare pay tribute to the NHS

5.03.2020 Celebrating World Book Day!